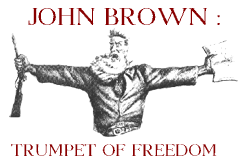 What the Critics Say
Read the latest review in Show Business Weekly (

Adobe Acrobat File)
"Norman Marshall single-handedly brings John Brown and a swarming host of his contemporaries to vivid, full-blooded life in this powerful, passionate and richly rewarding solo work."
-John Clancy, Founder, International Fringe Festival.
"An outstanding piece of historical theatre, powerfully acted by Norman Thomas Marshall.
I highly recomend it."
-F. Murray Abraham, Professor of Theatre, Brooklyn College
"John Brown's body is most certainly not mouldering in the grave.
Norman Marshall has magically and marvelously brought him to life."
-Peter Filicia, Star-Ledger Theatre Week
"Marshall puts no limits on his performance, and goes so far as to place his head in a noose and sway, as if being hung."
-Linda Armstrong, Amsterdam News (read complete review)
"Brown assumes near iconic dimensions in this production. Marshall's John Brown walks us vividly and compactly through the life of this extraordinary individual. This is an historical drama recreated with accuracy, accessibility and remarkable emotional depth. I can only hope that many more will be enabled to share in the world of this impassioned man who Norman Thomas Marshall so powerfully illuminates on the stage."
-Peter Hinks, Lecturer in American History, Yale University
"You brought an interesting and controversial historical figure to life in this vivid interpretation of the man, his beliefs and his cause."
-Gail Kruppa, Curator: The Torrington (CA) Historical Society
"I have seen a number of living history presentations and you are up there with the best of them! You were a very believable 'John Brown'. Your presentation was smooth and attention-keeping."
-Joan Murray, Assistant Director, Yuma County Library
TRUMPET OF FREEDOM: THE SAGA OF JOHN BROWN

"Playing the infamous abolitionist, Norman Thomas Marshall brings the character completely to life. At some points you truly forget that it's Marshall and not Brown standing before you..."
-Julie Congress/NYTHEATRE.COM : For Complete Review Click Here (

Adobe Acrobat File)
"Marshall is a superb actor, and he finds well-differentiated voices for all the characters in the saga. He is able to transport the audience to the mid-nineteenth century with gesture and cadence, even within the straightjacket of Southern accents..."
-Full Review in "CURTIANUP.COM" Click Here (

Adobe Acrobat File)
"The performance by Norman Marshall, who playsthirty-one different characters, was absolutely mind-blowing and informative in every sense. His performance demands your undivided attention..."
- from The Rutgers Observer
"...this one man bio-performance is a show every student of acting, politics, human and civil rights must see."
-Larry Litt : Full Review Click Here (

Adobe Acrobat File)
For more information about show times and availabilities, call (718) 784-0905 or go right to the BOOKINGS LINK. Select any of the other links below to see and hear the performace on the internet or to obtain more information about the people behind this extraordinary production.
E-Mail: john.brown.drama@gmail.com