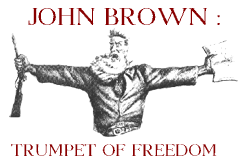 "What are we willing to give our lives to?
What are we willing to give our lives for?
How fiercely should we resist evil?
Can we be corrupted by our own righteousness?"
- from John Brown, "Trumpet of Freedom"
JOHN BROWN: Trumpet of Freedom is a one-man drama featuring veteran stage and screen actor Norman Thomas Marshall. It was co-written by Mr. Marshall and Director George Wolf Reily.
Mr. Marshall portrays the legendary Abolitionist and 30 other Civil War period characters.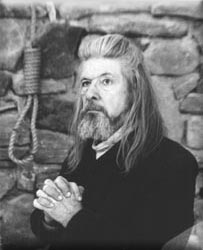 Early in the morning of his last day on Earth, the day that he will hang by the neck until dead, John Brown writes a farewell letter to his compatriots in the Abolitionist Movement. In the letter, he registers his outrage and horror at his first seeing an African Slave, starved and naked and chained to a post and beaten bloody with an iron shovel for the offense of stealing a crumb of decent food. In the passion of that moment, he vows to God to rectify the injustice, and wage war against the government that sanctions this abomination.
He further ruminates on his guerilla actions against the pro-slavery militias in Kansas and his attack on the Harper's Ferry Arsenal with his ragged "army" of nineteen men.
The play looks deeply into the conscience of a man who commits violent acts against those whom he deems to be guilty of grave sins against God's Law. It reiterates in powerful, graphic detail the age-old question, "Does the means justify the end?", no matter how brutal the means and how laudable the end.
JOHN BROWN: Trumpet of Freedom employs an historically accurate narrative, relying largely on John Brown's own words. Along with general audiences, this performance is appropriate for history students from seventh grade and above. For more information about show times and availabilities, call (718) 784-0905 or go right to the BOOKINGS LINK. Select any of the other links below to read the reviews or to see and hear the performance on the internet
Click on this link to read more about the play at nytheatre.com(opens a new window)
E-Mail:john.brown.drama@gmail.com
Top | Home | Reviews | Bookings | See and Hear | Credits | Mr. Marshall